Case Study: Minimizing Defects for Temenos Journey Manager
A large regional bank tasked Accutive with implementing Temenos Journey Manager to automate and enhance their customer onboarding experience as part of their digital banking transformation.
The client's legacy onboarding process for both personal and small business clients required significant manual data entry and several days of review for approval and account opening.
Accutive, a Temenos Certified Partner, worked with the bank to understand their requirements and developed a comprehensive plan to implement Temenos Journey Manager. Temenos Journey Manager will expedite the bank's new customer acquisition and create an exceptional customer experience.
The Challenge
This digital banking transformation project involves collaboration between Accutive and seven other teams – five internal client teams and two other vendors. Due to the coordinated nature of this program, any Temenos Journey Manager implementation quality issues, including excessive defects, would impact the other teams' work as well.
Our Accutive team drew upon their extensive experience coordinating with multiple teams to establish open channels of communication and regular touchpoints. Critically, our experts analyzed the requirements and project environment from the perspective of all parties. This analysis informed the project plan and helped ensure all delivery deadlines were realistic, fixed, attainable, and aligned with the client's deployment process.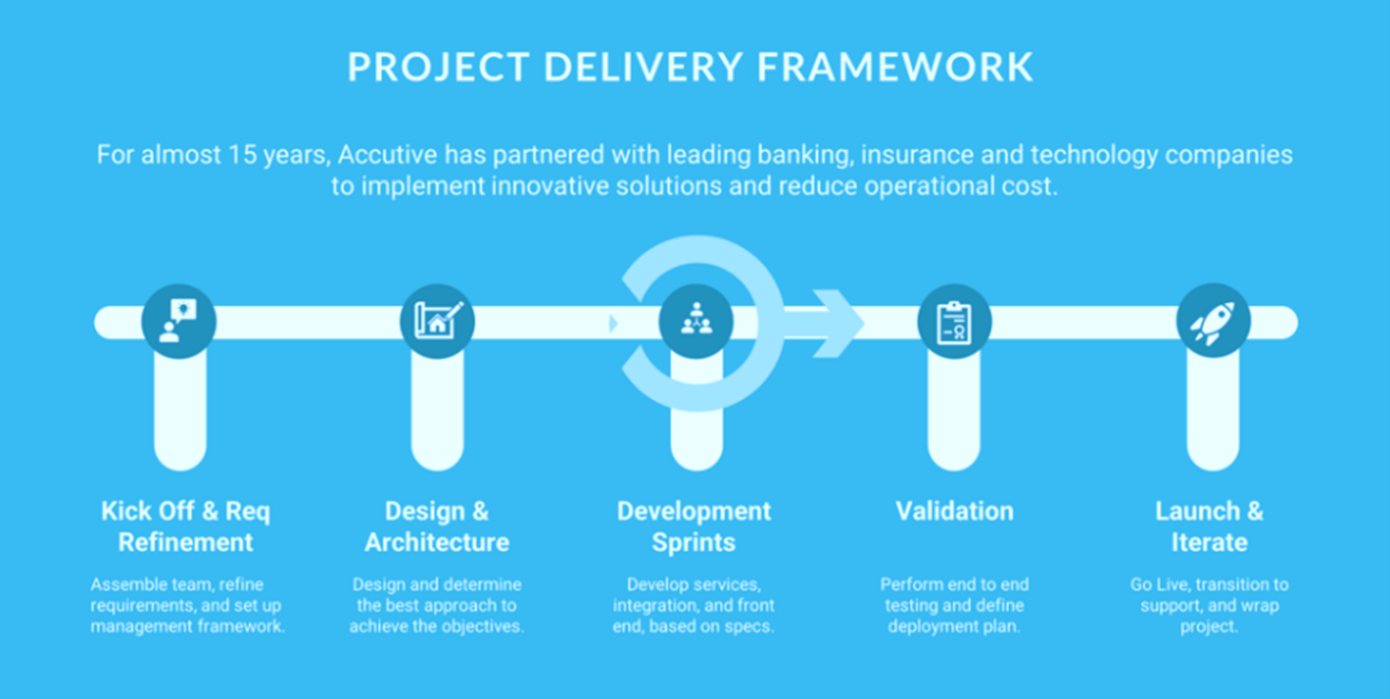 Delivering Quality within Firm Deadlines
The project management triangle, or triple constraint, states that the competing constraints of scope, budget, and schedule must balance or quality will suffer. Not satisfied with simply balancing these constraints, our Accutive team's goal is delivering high quality code that gives our clients the confidence to accelerate their testing timelines and deploy earlier.
With our obsessive commitment to quality, Accutive utilizes a high quality assurance(QA)-to-developer ratio. In addition to reducing project risk, our high QA-to-developer ratio facilitates consistently on-time delivery with lower-than-average defect rates.
Before the Temenos Journey Manager development work began, Accutive collaborated with the client to develop a testing and rollout strategy that is responsive to the client's timelines.
Iterative defect identification and remediation began after the first sprint with both Accutive and client testing. To date, our client has conducted over 500 test cases as part of their comprehensive quality assurance (QA) program. Remarkably, the client's ongoing quality analysis shows a defect rate of only 1.3%.
Encouraged by the low defect rate, the client began operational testing two weeks ahead of schedule. This accelerated testing timeline presents an opportunity for our client to compress their overall test schedule.
Accutive's Obsessive Commitment to Quality
At Accutive, we recognize that on-time, defect-free deployment begins from the earliest stages of a project. A high QA-to-developer ratio, detailed requirements analysis, robust testing, and client alignment are all critical components of our Accutive approach. By delivering high-quality code from the first sprint, our Accutive expert teams set our clients up for success.
Find out how Accutive's culture of quality has made us a trusted partner for banks, credit unions, and other financial institutions in the U.S. and Canada. Our dispersed Accutive project teams enable us to work with clients across North America.
We'd love to partner with you on your Temenos, MuleSoft, or CapitalStream projects – big or small – and ensure you receive maximum business value from your IT solutions.